Buying BMW Parts with Crypto
RENN Auto Moto Now Accepts Cryptocurrency!
What do BMW's and Cryptocurrency have in common? Cutting edge technology and alot of excitement ( both good and bad lol) but the good news is today you can now buy BMW Car, Suv and Motorrad parts and accessories with cryptocurrency!!!!!!!
Renn Auto Moto Accepts:
TetherUSD
Enjin
Emax
AMP
Matic
TrueUSD
KuCoin
CRO Crypto.com
BAT Basic Attention
BUSD
Chain
https://rennauto.co
Join our Renn Auto Forum to vote on what new coins or tokens to give purpose.
Like any other store Renn Auto Also Accepts Visa, MasterCard, American Express, Paypal, Venmo and CashApp!
Join us as we expand your BMW parts and accessories shopping experience into the Metaverse. #BMW #bmwlife #bmwmpower #bmwmotorsport #bmwm4 #bmw #bmwm #bmwm3 #KuCoin #emax #emaxtv #BUSD #Matic #maticshop #amp #cryptocurrency #cryptocurrency #cryptocurrencynews #cryptocurrencymarket #cryptocurrencytrading #enjincoin #enjin #enjin #enjincoin #tether #tetherusdt #tether
How buying Bmw car parts and accessories with crypto saves you money.
Renn Auto Moto cuts customer costs when they pay for products with crypto.
So how does it work? How are you able to save up to 34% when buying BMW parts with crypto? its pretty simple we will break it down below.
 You pay $0 sales tax when you pay with crypto which can save you from .05-8%
We automatically discount 2.8% which would have been the cost for us to process your payment by Credit Card or Paypal.
Customers using cryptocurrency also receive a 15% discount when they sign up at Coinbase.com
Sign up for Renn Auto Drivers Club and receive 2 coupons for 5 percent off to use separately/together or to share with a friend!
Enjoy great low prices because we are able to pass down the savings to you due to the fact that we don't have to worry about fraudulent credit card purchases when you pay with crypto.
As a bonus all Renn Auto Customers who opt to use crypto within their accounts and host a wallet at Renn Auto can also receive Emax Crypto Shopping rewards which earn the EMax holder reflections ( rewards that compound by the second)
Create Your wallet here: https://rennauto.co/mcwallet/#/createWallet
Need to transfer or top up your crypto account use the built in exchange https://rennauto.co/mcwallet/#/exchange/
BMW and VeChain: What You Should Know:
How BMW Currently Uses Blockchain Technology
Vechain has partnered with BMW to develop a platform that will keep vehicles free from forgery.
The partnership will launch a blockchain-powered app dubbed VerifyCar.
BMW noted that data pertaining to mileage will be collected in real-time and stored on VeChain.
Vechain has recently partnered with BMW to develop an auto security platform, which will keep vehicles free from forgery. The partnership will launch a blockchain-powered app (dApp) dubbed "VerifyCar" to collect vehicle data such as mileage, repairs and additional services. The dApp will run on the VeChainThor blockchain and will keep the data secure and untampered.
BMW noted that VerifyCar users will have more control over the collected data.
By accessing the app, the user decides who he would like to pass on which data, e.g. a workshop or a potential buyer. The recipients can compare the data with the 'digital fingerprints' or reference stamps on the VeChain blockchain. If clear data and the reference on the blockchain match, the recipient knows that the data is authentic.
BMW also noted that data pertaining to aspects like mileage will be collected in real-time and stored on VeChain with the help of the automobile company's hardware.
The automobile giants added that car owners who try to modify a vehicle's mileage will get exposed as local data would not match the information saved on the blockchain. VerifyCar will also protect users from sellers who deliberately manipulate data related to mileage and other factors to get a better price.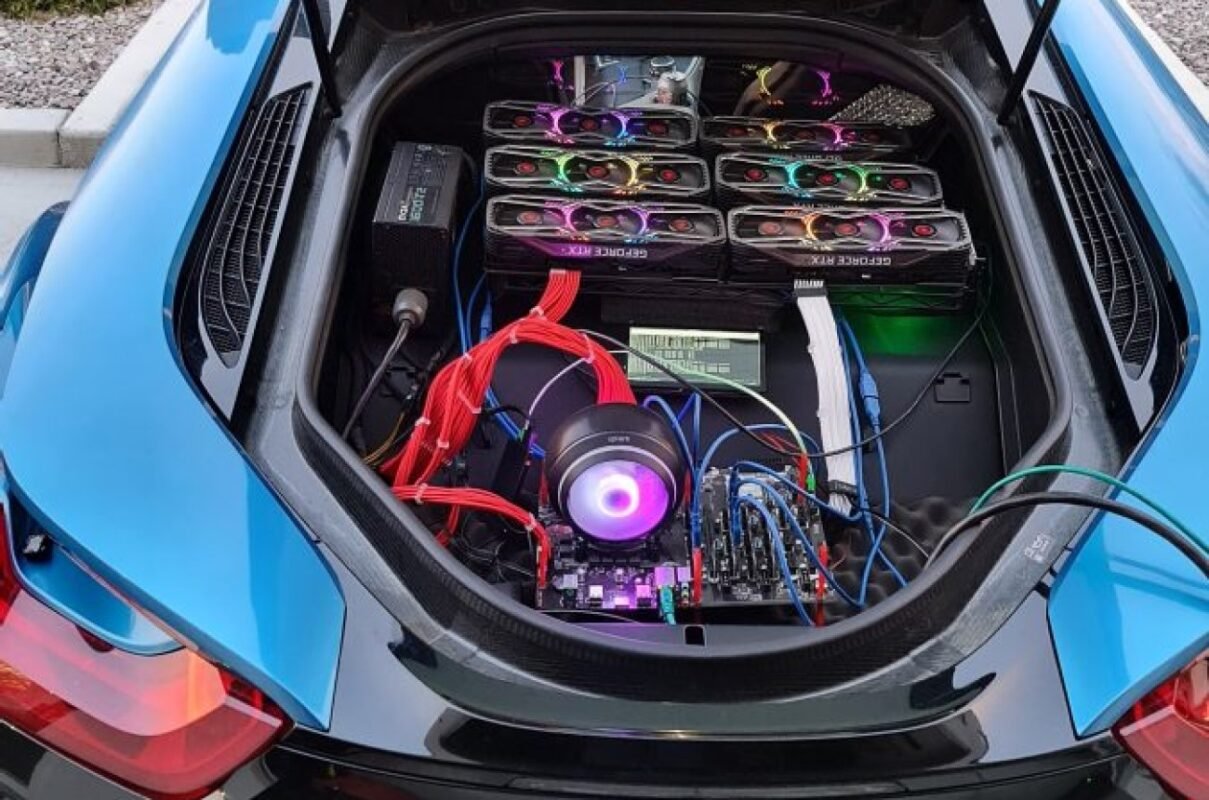 man Builds crypto mining rig in bmw i8
The future of crypto is moving fast….don't get left behind.
While this mining rig can be powered by the hybrid car's battery, the trunk needs to stay open to avoid overheating.
New tech is hardly ever perfect but it generally was created to serve a need. Crypto currency mining is now done in a few different ways, while this rig is a feat of ingenuity most drivers wouldn't do this to their BMW. GPS based crypto mining may be the most feasible solution for BMW owners wishing to mine crypto and possibly for Buying BMW parts with crypto currency.
A U.S.-based cryptocurrency user has installed a mining rig in the trunk of his BMW i8, running the compact setup on the auto's hybrid-electric power system.
Simon Byrne's system comprises six Nvidia RTX 3080s graphics cards, popular for mining Ethereum, which can be in operation whilst driving, according to a PC Gamer report Tuesday.

While it can be powered by the hybrid car's battery, the trunk needs to stay open to avoid overheating.

Byrne also operates a more traditional mining rig said to be capable of generating a profit of $128,088 per year. The BMW setup was first reported by HardwareTimes.

Byrne's near-$150,000 BMW boasts the Nevada license plate "HODLER" (a community term for holders of cryptocurrency). The vehicle is capable of accelerating to 100 km/hr in 4.4 seconds.

He told PC Gamer he had installed the mining rig in his car "just to annoy gamers."

Chip-maker giant Nvidia recently stated it could potentially restart the production of dedicated graphics processing units for crypto currency miners, amid short supplies of the RTX 3080 GPUs.