.allbg{background:url(https://farm3.staticflickr.com/2850/10116675365_c545d3fb12_o.jpg)}
body {
margin: 0px;
}
.topbanner{ width:100%; text-align:center; margin:0 auto}
.topbanner img{ max-width:100%; height:auto}
.menunav{ font-family:Georgia, "Times New Roman", Times, serif; font-size:13pt; font-weight:bold;height:62px;width:1045px; margin:0 auto;background:url(https://image.pushauction.com/0/0/3cd9e8c0-8827-421c-9c61-3fc5d89c3e3e/848f9630-7b36-4880-96f3-8604e7656504.jpg) no-repeat; overflow:hidden}
.menunav ul,.menunav li{ margin:0; padding:0}
.menunav li{ list-style:none; display:block; float:left; padding-left:25px; padding-right:25px; line-height:62px; color:#FFF; background:url(https://farm3.staticflickr.com/2864/10116378605_319b77a0de_o.jpg) right top no-repeat;}
.menunav li a{ color:#FFF; text-decoration: underline}
.menunav li a:hover{ color:#333; text-decoration:underline}
.wapbar{ border:1px solid #ccc; background:#fff; width:1045px; margin:0 auto}
.wapbar .descbox{ width:95%; margin:0 auto; padding-top:10px; padding-bottom:10px; font-family:Verdana, Geneva, sans-serif; line-height:180%; font-size:14px;}
.wapbar .descbox img{ max-width:100%; height:auto; display:block; text-align:center}
.wapbar .descbox p,.wapbar .descbox span{ line-height:160%; margin:0; padding:0}
#policybox {display:block; position:relative; margin: 0 auto;margin-top:10px; margin-bottom:18px; width:980px; overflow:hidden }
#policybox section {display: block;padding:0;text-align:left; font-family:Verdana, Geneva, sans-serif; line-height:150%; font-size:14px; display:block; border:1px solid #ccc; border-radius:5px;background:#FFF; }
#policybox input {display: none;}
#policybox label {display: inline-block;background:url(https://farm8.staticflickr.com/7440/10116491433_16be6bd725_o.jpg) no-repeat; color:#000}
#policybox label:hover {cursor: pointer;background:url(https://www.amonstar.com/photo/fengge/a4ugy.jpg) no-repeat;color:#fff;}
#policybox input:checked + label {cursor: pointer;background:url(https://www.amonstar.com/photo/fengge/a4ugy.jpg) no-repeat;color:#fff;}
#policybox label,#policybox input:checked + label {margin:0 auto; padding:0;height:40px;line-height:40px;font-family:Georgia, "Times New Roman", Times, serif;font-size:14px; width:96px;font-weight:bold;cursor: pointer; text-align:center;text-transform:uppercase;}
#tab1:checked ~ #content1,
#tab2:checked ~ #content2,
#tab3:checked ~ #content3,
#tab4:checked ~ #content4,
#tab5:checked ~ #content5 {
display: block;
}
.politit{background:-webkit-linear-gradient(#5C5C5C, #373737);
background:-o-linear-gradient(#5C5C5C, #373737);
background:-moz-linear-gradient(#5C5C5C,#373737);
background:linear-gradient(#5C5C5C, #373737);
height:35px; line-height:32px; border-radius:5px 5px 0px 0px;overflow:hidden}
.politit strong{ color:#fff; font-size:16px; font-family: Georgia, "Times New Roman", Times, serif; margin:0; padding:0; text-align:left; margin-left:12px}
.desbg{ border-bottom:2px solid #333; height:45px; line-height:45px;}
.destit{ width:180px; text-transform:uppercase; font-size:16px; text-align:center; float:left; color:#FFF; background:#333; border-radius:5px 5px 0px 0px}
.despar{ padding-top:10px; padding-bottom:25px}
@media (min-width:980px)
{
#policybox section {display:none;}
.politit{ display:none}
}
@media screen and (max-width: 980px) {
.menunav li{ padding-right:10px; padding-left:10px; font-size:16px}
.wapbar{ border:0}
.wapbar,.menunav{width:99%; margin:0 auto;}
.politit{ display:none}
#policybox { width:100%;}
#policybox label{ display:none}
#policybox section {display: block; }
.politit{ display: block}
}
@media screen and #(max-width: 768px) {
.pictureslider {width:70%; margin:0 auto}
}
@media screen and (max-width: 600px) {
.pictureslider {width:90%; margin:0 auto}
}
@media screen and (max-width: 480px) {
.pictureslider {width:90%; margin:0 auto}
}
Specification:
100% brand new

Color: Red

Pipe Size: about 76mm/3″(Diameter) X 260mm/10.3″(L)

Filter Size: about 150mm/5.9″(Diameter) X 145mm/5.7″(H)

Surface Finish: Durable Pipe in Quality Aluminum Finish

The air intake filter of the car sold in our shop is universal accessories.Some models can be installed directly,some models need to be changed before they can be installed.Please confirm  the air intake mouth of original car of the outer diameter size before buying.

If the original car has an air intake sensing flowmeter,it cannot be used.
Fitment:
Universally fit to vehicle with the diameter of air intake hose measures at 76mm/3″ or 64mm/2.5″(using inclusive reducer). Also applicable to air intake systems on modified on modified vehicles.
Total Features:
100% brand new (Never been used or installed)

Optimize throttle reponse, improve torque and fuel / gas mileage

Funnel-shaped air filter to direct cold air inward, boost air speed and generate

Injection pipe in aluminum finish is durable and washable

Filter made with dry density fibers for maximum protection from foreign materials entering the engine.

Easy Fit for any 64mm / 76mm Air Intake Hose

Reducer included for adjustment 64mm / 76mm

This air intake kit system is the complete solution to optimize throttle response and generate explosive horsepower output.

The aluminum injection pipe coupled with the funnel-shaped air filter allow cold airflow channeling leading to minimal intake turbulence, air speed boosting and, in turn, creating pure horsepower and improving fuel / gas mileage.

The filter also features dry density fibers to obstruct foreign materials entering the engine.
Filter Features:
High air flow with excellent filtration.

Designed to increase horsepower and acceleration.

Washable and reusable.

Will not void vehicle warranty.

Lasts up to 50000 KM before cleaning is required depending on driving conditions.

Economical, a stainless air filter will last the life of your automobile.

Easy high performance add-on.

Environmentally friendly.
Note:
1. Please check the size measurement chart carefully before making payment.

2. Please allow 0.5-1 inch difference due to manual measurement.(1 inch=2.54cm)

3. The color of the actual items may slightly different from the listing images due to different computer screen, thanks for your understanding.

4. Instruction is not included.
Package included:
1 x Air Intake Filter

1 x Air Intake Alumimum Pipe

1 x Hose, Reducer and necessary mounting hardware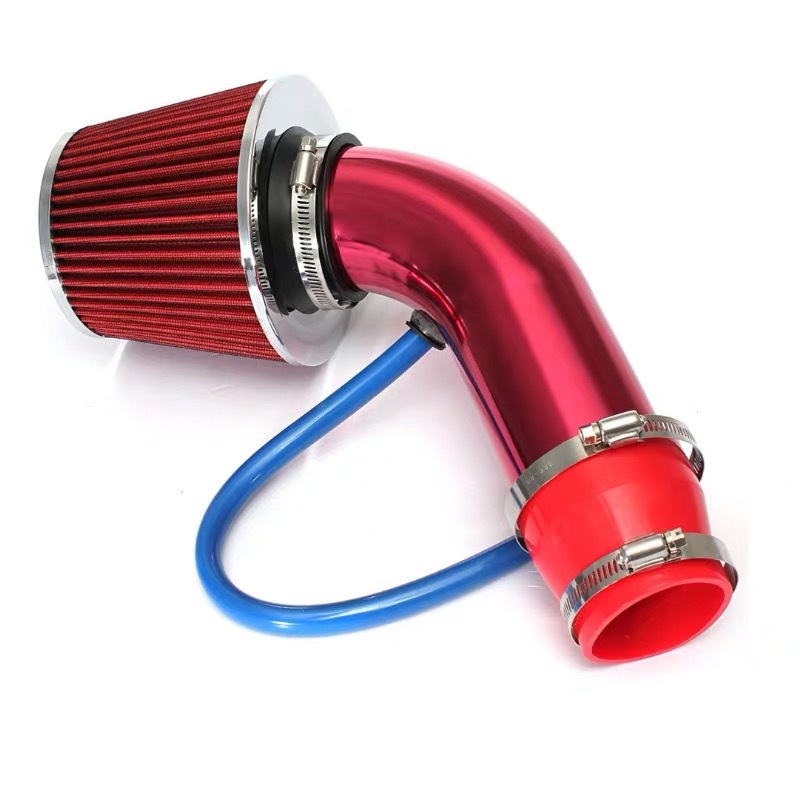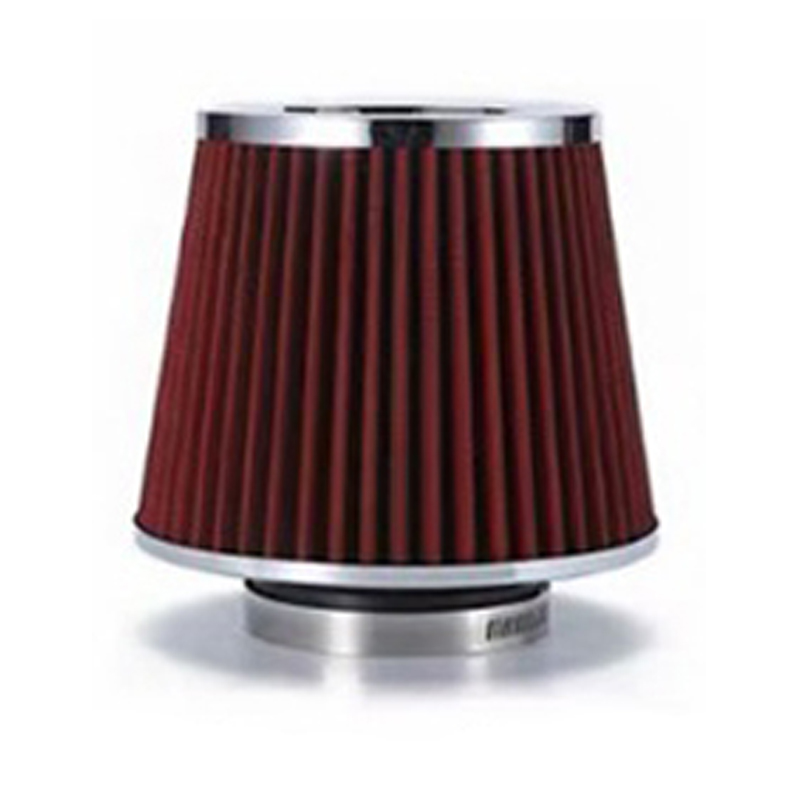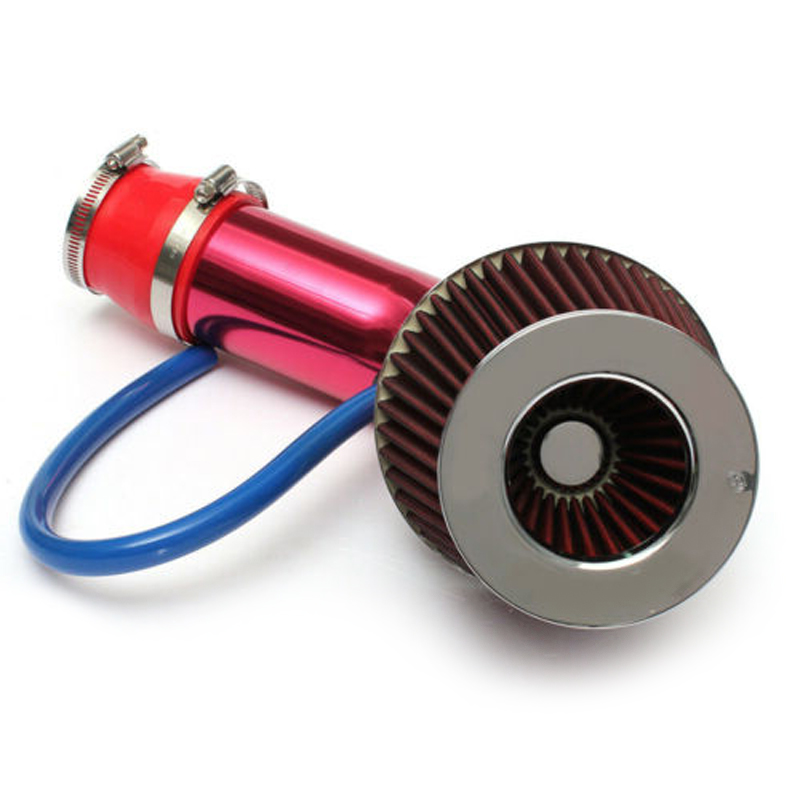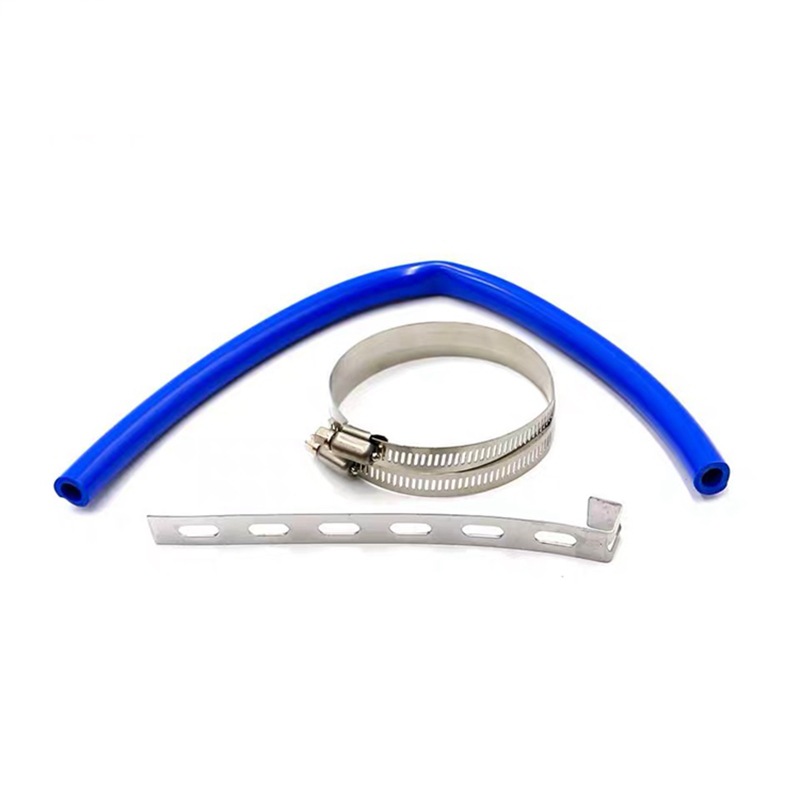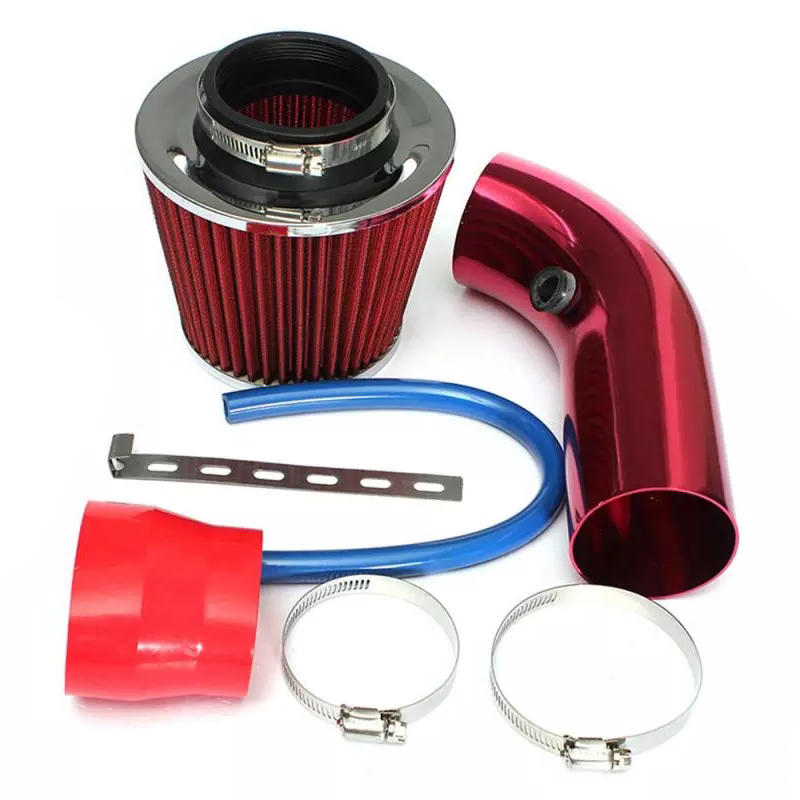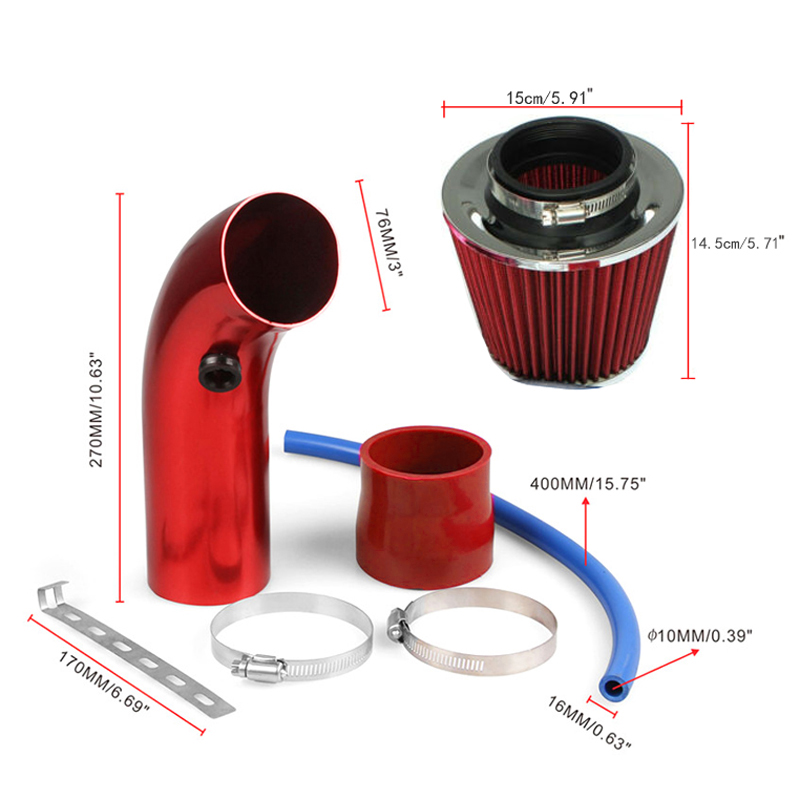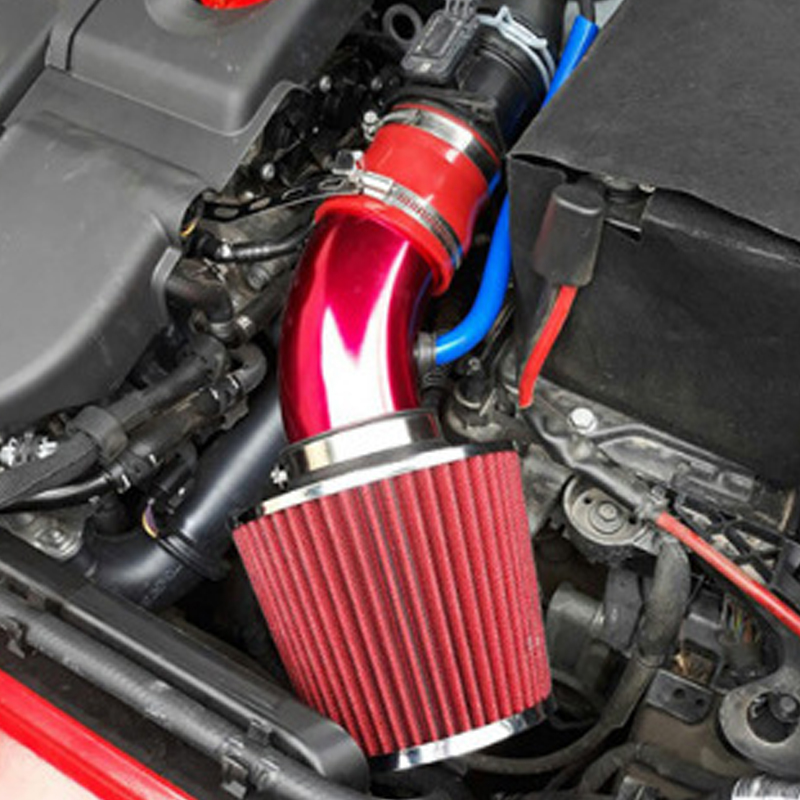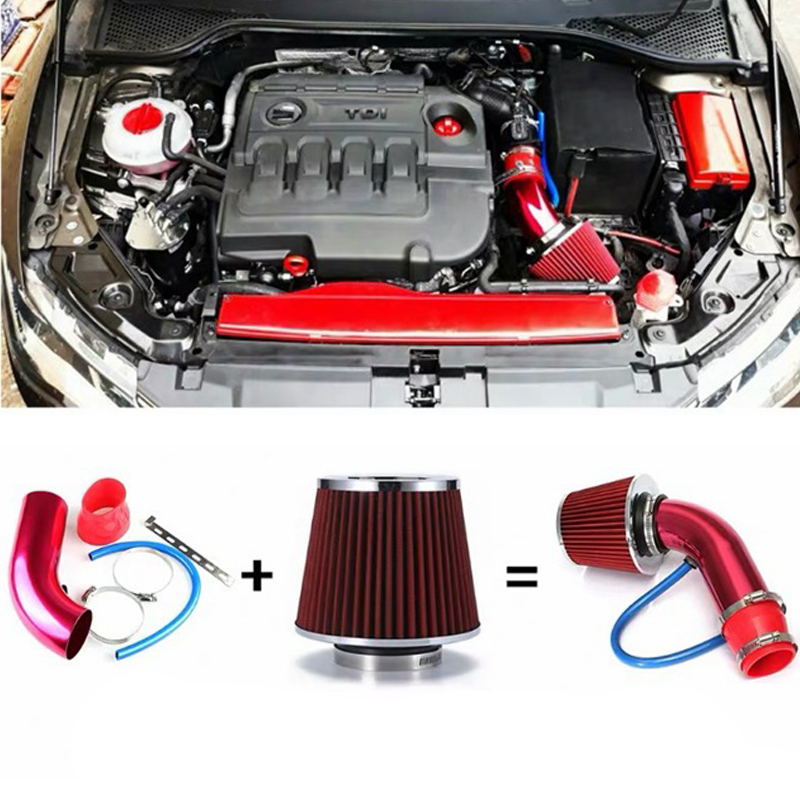 Payment
1.We have warehouses in the USA, CA, and AU. For those customers who live in the US,CA, and AU, we will send item from the corresponding warehouse.Estimated Delivery 2-4 business days to major locations,4-7 business days to remote areas.
2.For those customers who live in other countries,we will send item from our foreign warehouses if available, otherwise from China.Delivery time is 5~8 business days.(Tax maybe required if send from China,and tax is buyers' responsibility according to ebay policy.)
PAYMENT
We accept Paypal only ,and expect payment within 4 days of purchase.
RETURNS
1.If your item is received in a condition other than described, please contact us for an immediate solution.
2.All of our items come with a 14-Day money back guarantee,buyers pay for return cost.
CONTACT US
1.If you have any question or concern, please do not hesitate to contact our customer support team.
2.E-mails are answered Monday through Saturday. Please allow up to 48 hours for a response to your message
3.Please do contact us first before leaving low ratings or negative/neutral feedback.
ABOUT US
1.Best Prices: By avoiding too many other companies marketing and packaging costs, we deliver the same quality products at a fraction of the cost.
2.Reliable Shipping: You get your product when you need it. We ship via Fedex or UPS which has an average transit time of 2 to 7 business days but can be delayed due to weather conditions or security issues.
3.Quality Products: All of our items come with a 14-Day money back guarantee, and have been chosen from various reputable manufacturers. Our products are also tested for quality assurance purposes(CE etc).
We trust that you will have a happy experience when shopping with us! We appreciate your business!
.dc_tracker_img{display:none;}.dc_tracker_img:last-of-type{display:block;}p:empty+hr{display:none;}hr+span.ebay,hr+*>span.ebay{display:none;}